Angela Keen is a long time TV news personality in Hawaii. She spent more than 15 years at KGMB-9 News and later KHNL News 8 anchoring the morning show. Angela spent her life speaking in front of audiences. Several years ago, while working with a travel agency in Hawaii, Angela was asked to assist in coordinating a wedding and the rest is history. After obtaining her officiant's license in the state of Hawaii, she was already asked to perform a wedding two days later. She's been uniting couples in Hawaii ever since. Booking with Angela means you have someone who is skilled in working under pressure while maintaining calm. She is someone who has addressed audiences of all sizes from thousands of people to just the two of you. She has the knowledge and experience to guide you through stressful situations with ease.
Photo credit: Hawaiian Wedding Officiant Photography
Angela's love for the Hawaiian culture and language puts her in a perfect position to share Hawaiian customs and aloha with every ceremony she conducts. Her ceremonies are written for each couple according to their beliefs, values and needs. She's been asked to officiate weddings in Hawaii, Colorado and even Thailand. Her background in travel, wedding coordination and TV news puts her in a perfect position to have the right connections and experience to make wedding dreams come true.
Her wedding ceremonies include a romantic secluded beach with just the couple or a large wedding at an estate. Hawaiian blessings are included in her ceremonies and words are translated in English and Hawaiian. She doesn't officiate weddings because she has to, she officiates weddings because she loves uniting couples in marriage.
Photo credit: Jeannemarie Photography
During her time as a news reporter, she was honored with several awards for raising organ donor awareness in Hawaii. She also received awards from the American Cancer Society, Hawaii Psychological Association, National Kidney Foundation of Hawaii, the Hawaii Medical Association and the Cancer Research Center of Hawaii.
Angela holds two commendations from the Governor of Hawaii for her advocacy in the community. She is one of 51 Americans who received the Congressional Medal of Honor Society's Above and Beyond award. This is one of the highest honors a civilian can receive. Angela received this honor representing the state of Hawaii in 2009.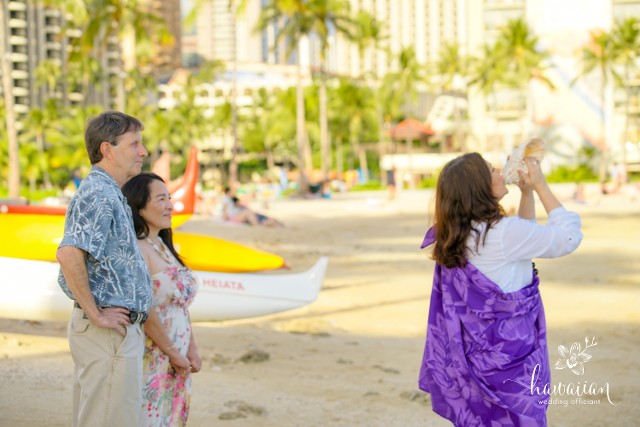 Photo credit: Hawaiian Wedding Officiant Photography
Hawaiian Wedding Officiant is proud to be honored as the number one officiant and celebrant in Honolulu by Thumbtack two years in a row! Please read Angela's reviews on Thumbtack.
See Angela's Facebook page for inspiration, wedding ceremony photos and videos.
If you'd like to request an estimate please go to Contact Us.